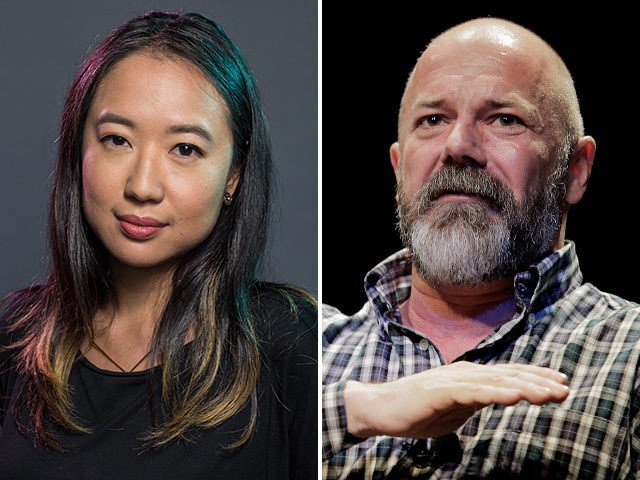 James Bareham/The Verge, T.J. Kirkpatrick/Getty
3 Aug 20181,956
New York Magazine's Andrew Sullivan calls out The New York Times and its newest hire Sarah Jeong for the excuse that her history of bigoted social media posts is mere "satire" in response to "trolls."
Sullivan writes at nymag.com:
Is the newest member of the New York Times editorial board, Sarah Jeong, a racist?

From one perspective — that commonly held by people outside the confines of the political left — she obviously is. A series of tweets from 2013 to 2015 reveal a vicious hatred of an entire group of people based only on their skin color. If that sounds harsh, let's review a few, shall we? "White men are bullshit," is one. A succinct vent, at least. But notice she's not in any way attacking specific white men for some particular failing, just all white men for, well, existing. Or this series of ruminations: "have you ever tried to figure out all the things that white people are allowed to do that aren't cultural appropriation. there's literally nothing. like skiing, maybe, and also golf. white people aren't even allowed to have polo. did you know that. like don't you just feel bad? why can't we give white people a break. lacrosse isn't for white people either. it must be so boring to be white." Or this: "basically i'm just imagining waking up white every morning with a terrible existential dread that i have no culture." I can't say I'm offended by this — it's even mildly amusing, if a little bonkers. (Has she read, say, any Shakespeare or Emily Dickinson?) But it does reveal a worldview in which white people — all of them — are cultural parasites and contemptibly dull.

Let me explain why I think this is the purest of bullshit. If you want to respond to trolls by trolling them, you respond to them directly. You don't post slurs about an entire race of people (the overwhelming majority of whom are not trolls) on an open-forum website like Twitter. And these racist tweets were not just a function of one sudden exasperated vent at a harasser; they continued for two years. Another tweet from 2016 has her exclaiming: "fuck white women lol."

And I don't think the New York Times should fire her — in part because they largely share her views on race, gender, and oppression. Their entire hiring and editorial process is based on them. In their mind, Jeong was merely caught defending herself. As Vox writer Zack Beauchamp put it: "A lot of people on the internet today [are] confusing the expressive way antiracists and minorities talk about 'white people' with actual race-based hatred, for some unfathomable reason." I have to say that word "expressive" made me chuckle out loud. (But would Beauchamp, I wonder, feel the same way if anti-racists talked about Jews in the same manner Jeong talks about whites? Aren't Jews included in the category of whites?)
Read the rest of the article here.
Big JournalismSocial JusticeTechAndrew SullivanNew York TimesSarah Jeong