The European Union spends billions on research into advanced technologies meant to make society safer. But our investigation – with 22 journalists in 11 countries – shows that the generous subsidies are mostly good for one thing: filling the coffers of the security industry.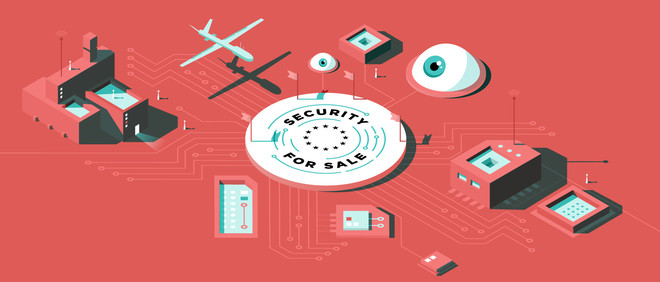 Infographics by Leon de Korte for De Correspondent
The Swedish researcher points at the giant black-and-yellow-striped blaster. "Shall I test it out on you?" He reaches toward the funnel-shaped device. A mannequin stands a few yards away, wearing a cheap jogging suit and a bright yellow suicide vest. We give a nervous laugh and politely decline the offer.
It's June 1, 2016 and we're exploring the Security Research and Innovation Event the European Commission is holding in The Hague. Here, researchers are presenting the results of seven security projects the Commission has funded with more than €63 million in grants.
And those aren't the only projects funded by the Commission. The Commission has been trying to boost the security industry for ten years now, and nearly €2 billion has already been funneledinto security research.
Our international consortium of 22 European journalists from 11 countries wants to find out what that €2 billion in subsidies has accomplished. In total, we speak with nearly one hundred people involved, in Brussels and in participating member states. Has it made Europe safer?
We quickly discover that the European security industry is primarily taking good care of itself – often at the expense of the public.
THE CIVILIAN SECURITY INDUSTRY IS GROWING
But first: What is the European "security industry," anyway?
In the 1990s many countries lowered their defense spending, so arms manufacturers moved into the civilian security market. Drones, smart cameras that can see through clothing, and sensors that can sniff out bombs: all kinds of things were developed. In the US, the security industry is now worth more than €100 billion.
In every policy paper, the European Commission emphasizes that we're living in a dangerous world whose threats have grown extraordinarily complex
In Europe, too, the civilian security industry has been growing for years, though no one seems to be paying much attention. According to the European Commission, surveillance companies earn some €30 billion each year on the European market, enjoy double-digit growth, and provide jobs to roughly 180,000 people.
That's not to say the Commission is satisfied. In every policy paper, it emphasizes that we're living in a dangerous world whose threats have grown extraordinarily complex. Time and again, the Commission insists that Europe can only become safe if we develop and deploysophisticated technology, such as that being presented at the trade show in The Hague.
But this market isn't yet flourishing, says the Commission. The industry is still much too focused on national concerns, and researchers aren't collaborating enough. The Commission envisages an enormous public-private partnership of companies, private and semi-private research institutes, universities, and end users such as law enforcement and emergency services.
A sort of European Homeland Security.
AN EXAMPLE OF THINGS GONE WRONG: THE A-WASP
Back to the black-and-yellow-striped blaster, which turns out to be an A-WASP. The blaster is part of the European SUBCOP research project, which stands for Suicide Bomber COunteraction and Prevention, the Swedish researcher explains. The goal of that project, which received €4.6 million in funding, was to find less-than-lethal methods for taking out terrorists.
One of the plans was to install dropdown walls and ceilings. If a terrorist exploded a bomb, security personnel could make panels drop down around the terrorist to isolate him.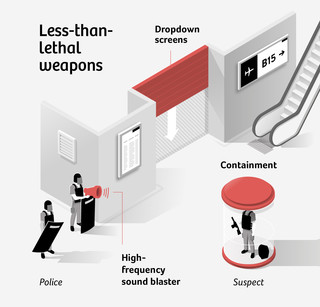 by Leon de Korte for The Correspondent
That plan ultimately didn't make it to market, unlike the A-WASP, a highly directional megaphone that projects a concentrated beam of sound. If a terrorist is about to blow himself up, security personnel can use the megaphone to warn people nearby and to emit high-frequency tones to unsettle the attacker.
SHARE THIS ARTICLE...