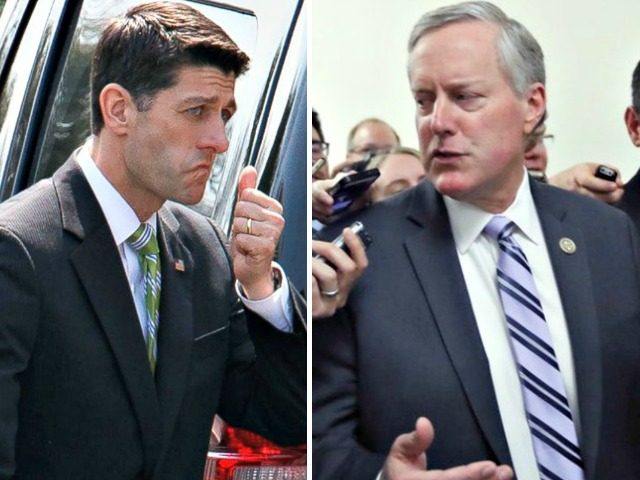 20 Jun 2018Washington, D.C.348
House Freedom Caucus chairman Rep. Mark Meadows (R-NC) lambasted House Speaker Paul Ryan in a heated exchange over immigration on Wednesday on the floor of the House of Representatives, captured partially on C-SPAN but in view of the whole House and onlookers from the gallery above.
Meadows and Ryan both had their fingers in each other's faces, and Meadows repeatedly reportedly shouted at Ryan that it "doesn't matter anymore" and "I'm done."
It appears now that Paul Ryan's amnesty plan is in serious danger of not having enough votes for congressional passage.
It seems, based upon media reports, that Ryan and his leadership team lied to House GOP members and the president about what is in the bills being voted on Thursday.
Meadows, who led the way in removing Ryan's predecessor, now former Speaker John Boehner, has reportedly never been this angry at Ryan. Ryan may want to be careful, because his office has repeatedly not answered whether he has the votes to win re-election as Speaker should a Republican member–or a Democrat–call a motion to vacate the chair and remove Ryan from the Speakership now.
Ryan is planning to retire at the end of this Congress, serving out the rest of the year as a lame duck. But he is losing more and more support from Republicans across the conference, as some like Rep. Paul Gosar (R-AZ) have already called for him to be removed now. Rep. Steve King (R-IA) revealed recently that members are discussing removing Ryan by force if necessary. The best part of this Meadows-Ryan dispute is that C-SPAN cameras captured most of it: