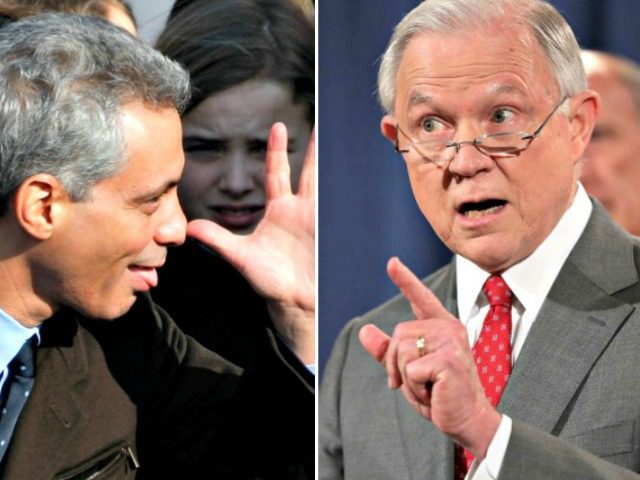 by PENNY STARR7 Aug 2017696
Following the announcement that the city of Chicago — spearheaded by former Obama chief of staff and Mayor Rahm Emanuel — Attorney General Jeff Sessions issued a statementreaffirming the Department of Justice (DOJ) decision to withhold federal grant funding to state and local governments that flaunt federal immigration law.
"This administration will not simply give away grant dollars to city governments that proudly violate the rule of law and protect criminal aliens at the expense of public safety," Sessions said in the statement issued on Monday. "So it's this simple: Comply with the law or forego taxpayer dollars."
The federal lawsuit, announced on Sunday, claims that the crackdown on sanctuary cities that harbor illegal aliens and refuse to cooperate with federal immigration enforcement denies aliens "fundamental rights."
"Chicago will not let our police officers become political pawns in a debate," Emanuel, a Democrat, said at a news conference on Sunday, according to Reuters.
"Chicago will not let our residents have their fundamental rights isolated and violated," Emanuel said. "And Chicago will never relinquish our status as a welcoming city."
Sessions, however, said the Trump administration is "committed to the rule of law:"
This administration is committed to the rule of law and to enforcing the laws established by Congress. To a degree perhaps unsurpassed by any other jurisdiction, the political leadership of Chicago has chosen deliberately and intentionally to adopt a policy that obstructs this country's lawful immigration system.

They have demonstrated an open hostility to enforcing laws designed to protect law enforcement — Federal, state, and local — and reduce crime, and instead have adopted an official policy of protecting criminal aliens who prey on their own residents. This is astounding given the unprecedented violent crime surge in Chicago, with the number of murders in 2016 surpassing both New York and Los Angeles combined.
Sessions also said that a complaint about the effect the federal policy has on local law enforcement operations is exactly as it should be.
"The Mayor complains that the federal government's focus on enforcing the law would require a 'reordering of law enforcement practice in Chicago,'" Sessions said. "But that's just what Chicago needs: a recommitment to the rule of law and to policies that rollback the culture of lawlessness that has beset the city."
Read More Stories About:
Big Government, Immigration, National Security, Attorney General Jeff Sessions, Chicago Mayor Rahm Emanuel, Department of Justice, immigration, lawsuit, Sanctuary Cities