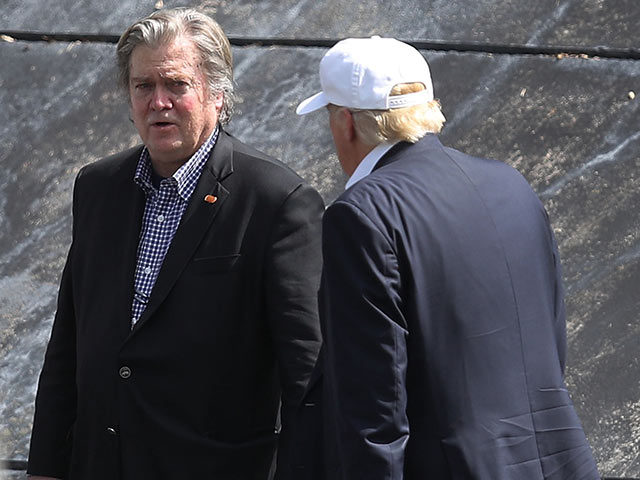 Getty Images
by CHARLIE SPIERING18 Aug 20171,136
Recently departed White House strategist Steve Bannon is preparing a war for Donald Trump, not against him.
"If there's any confusion out there, let me clear it up: I'm leaving the White House and going to war for Trump against his opponents — on Capitol Hill, in the media, and in corporate America," Bannon told Bloomberg Businessweek's Joshua Green.
Green said that Bannon "sounded like he'd just consumed 40 Red Bulls" during his conversation with him on the phone.
Bannon did not specifically mention the White House "Democrats" advising Trump in his conversation with Green, widely considered to be his enemies during his period of service.
In an interview with the American Prospect published on Wednesday, Trump said his enemies were "wetting themselves" about his agenda. He specifically criticized White House economic adviser Gary Cohn and "Goldman Sachs lobbying" in the White House.
Good. I honestly feel Bannon is a better asset for Trump outside of the administration. Much more flexibility, and a lot less looking over his shoulder.

#WAR

 

guycooksey  ThemistØcles

 • 

5 hours ago

Totally agree. he will not be handcuffed inside the WH and Trump can still rely on his wise counsel at any time. The left has overplayed its hand again--rejoicing like it is Christmas. The war goes on and the units have only been shifted for further victory, that is all. TRUMP MAGA!

 

 

 

I wish there were more Bannon types in the White House and less McMaster types. The Alt Left won't be destroyed by playing nice with them.

Good, its time to get this country back on track.
Time to stop all the BS and get back to work

Jobs coming back to US - http://www.dailyjobfix.com


Schrödinger's cat  Overman55

 • 

17 minutes ago

TRUMP is the man.

Bannon is the plan.

Nothing has been lost. Everything gained.

The Uniparty/MSM/Deep State is confounded yet again !!!

MAGA - only LOUDER this time !!!

 

 

 

 

I'm just happy to see Bannon coming out of the WH on Trump's side. Was worried for a second...

 

 

Never had a moment's doubt. I emailed another on these boards within minutes.

There is something more I believe but must leave it at that for now. Not privileged information BTW - just pattern recognition.

 

 

 

 

 

Losing is winning.

Getting fired is getting hired.

Quitting is beginning.

Our dysfunction tricks our competition.

If we say it louder it will come true.

 

 

Sue Cole  Overman55

 • 

31 minutes ago

What a joke....no jobs coming back! The facts confuse the right wing nut jobs! Let the Racist in Chief destroy himself!

 

 

Ipse Dipxit  Sue Cole

 • 

22 minutes ago

Sue, you sound like a bigot.

Trump never called an Exalted Cyclops of the KKK his "mentor", but Hillary did.

Trump never called a woman who wanted to eliminate Blacks from the human race his "hero", but Hillary did.

 

 

Huckleberry  Sue Cole

 • 

21 minutes ago

That old lie about Trump being a racist is really getting old. No one is buying that. Glad you are back at BB Bannon!  

really old!!!!!!

 

 

 

 

spud100  Sue Cole

 • 

19 minutes ago

Under Obama, the enormous number of H1_B's depleted the IT departments of the US. They were allowed by Corp heads to take US IT jobs. Don pushed back a little and bang, jobs have come back. Please challenge me on this, because I lived through this.

 

VirtualParticle  Sue Cole

 • 

16 minutes ago

Dear Sue -- I've seen women like you before -- you go around calling Trump a racist -- but you're precisely the type of woman who judges a white man for marrying outside his own race. How funny you are. TROLL.

No jobs coming back? really- they are already coming back. Maybe you don't have one because you have a useless degree in gender studies or the failed collectivist system. NAFTA is being renegotiated. We have the leverage. You can fault Trump his ego, but he is not going to

let a deal stand that has given the U..S 1 trillion in deficits over its duration

. Every other country gets to have protectionist policies yet we have to open our doors wide open to their goods while they keep ours out of their countries.

Not going to happen any more

. Private sector businessmen have to show profits they can't keep bleeding the public like politicians can do with taxes and betrayal.
Funny how the American corporations are the ones not being loyal to the country that gave them the freedom to prosper. 


Apple is giving Southern Poverty Law Center 1 million to smear Americans as racist. That's it for me. no new Apple products.

Trump is fighting corporate fascism that is why they are all lying about his speech and smearing him. You are a fool to believe the main stream media.

More like an idiot

 

 

 

 

 

 

 

Art Dog  Sue Cole

 • 

11 minutes ago

Typical progressive....now you can call yourself a victim because of all of the scathing responses to your dumbazz comment.

 

 

 

 

 

 

 

 

 

Appreciate  Sue Cole

 • 

10 minutes ago

Funny. YOU are the racist, bigoted fascist and yet you project just like every other hypocritical leftist terrorist. Keep at it, Sue! YOU are the exact reason the dem party will be extinct in 2018. Dear God, self-awareness is a good thing. As scary as you find it, I promise, once you see the light you will shudder at ever having been pro-establishment, pro corrupt career politician, pro anti-America! But hey, don't be too hard on yourself, you will finally be "woke"!


 

 

mainbyca  Sue Cole

 • 

6 minutes ago

Well if you leftists would allow him to be President and implement his policies ..MAGA would happen. Idk why you dont want to MAGA .

 

Spike2000  Sue Cole

 • 

10 minutes ago

Hello Sue. Nice to meet you. Its good to see an intelligent person in this swamp of stupidity and bigotry called breitbart.com. Please dont waste too much time or energy with this scum though. They already take all of our tax payer money for their bankrupt states. We shouldnt give them anymore.

 

 

Dr 2x4  Jay Blanka

 • 

25 minutes ago

There is a lot of power being brought to bear on anyone in Trumps camp. The left excels at destroying lives. We excel at letting them do it. If Bannon can get to work and start a movement that it is okay to come out of the shadows for POTUS then I am all in with him. Steve, please take off the gloves. We see these villainous scum for who they are. Let's change from "Art of the Deal" to the "Art of going lower." To win this fight we are going to have to get dirty.

 
Read More Stories About: