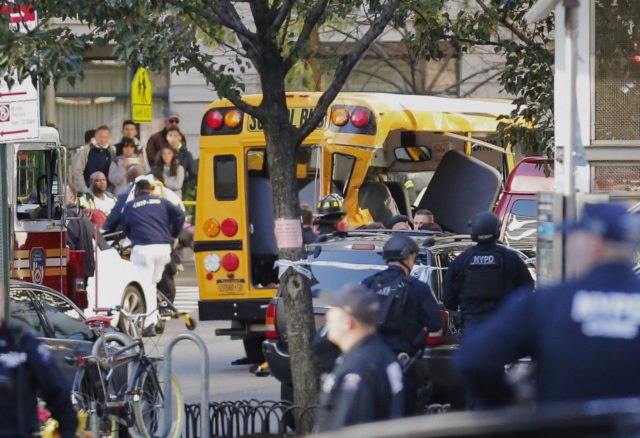 Bebeto Matthews/Associated Press
by AMANDA HOUSE31 Oct 201731,042
Multiple officials have identified the alleged truck driver who mowed down pedestrians Tuesday in lower Manhattan, killing eight and injuring about a dozen more, as 29-year-old Sayfullo Habibullaevic Saipov. 
Officials are calling the incident "an act of terror."
According to many witnesses, Saipov shouted "Allahu Akbar" upon exiting a Home Depot rental truck after intentionally driving the wrong way on a busy bike lane near the World Trade Center — the site of the deadliest terror attack on U.S. soil. After striking several people, witnesses say he "crashed deliberately into a school bus carrying at least three children," CNBC reports. Leaving his vehicle with two imitation guns, he was shot in the abdomen by police, according to NYPD.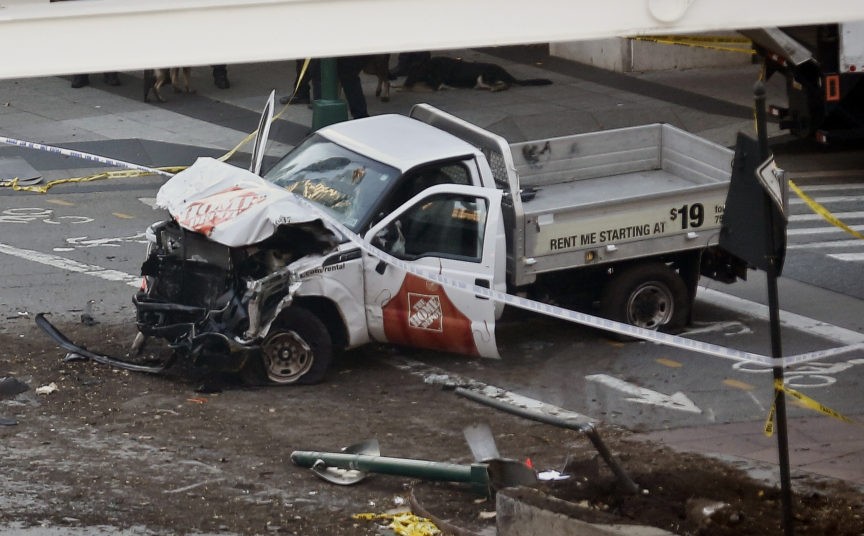 A picture of the rental truck. (Photo Credit: Bebeto Matthews/Associated Press)
Saipov was reportedly taken to Bellevue Hospital and is in police custody. A paintball gun and pellet gun were recovered at the scene, according to law enforcement officials.
Six of the victims — all men — were pronounced dead at the scene, while two died later, Police Commissioner James O'Neill said.
This is a developing story. All times eastern.
Update 9:14
Suspect has girlfriend and three children.
From the Associated Press:
NEW YORK (AP) — The Latest on a vehicle driving onto a bike path near the World Trade Center site and memorial (all times local):
New York Gov. Andrew Cuomo (KWOH'-moh) has increased security at airports, bridges, tunnels and mass transit systems around the state following a vehicle attack on a bike path near the World Trade Center.
The Democratic governor has directed the lights on the spire of 1 World Trade Center be lit in red, white and blue in honor of freedom and democracy. He says additional security personnel are being deployed to high-density areas and large public gatherings.
Update 9:36
Trump orders DHS to step up extreme vetting.
Update 9:06
Reaching a new low, the alleged suspect chased toward children after crashing his truck into the school bus.
Update 8:45:
Two NYC students injured and two staff members.
ISIS note found…
Update 7:35pm:
A Belgian national has been identified as a victim. Didier Reynders, Deputy Prime Minister and Foreign Affairs Minister for Belgium, tweets his condolences…
Update 7:28pm:
The FBI's Joint Terrorism Task Force is taking over the lead of the investigation, accordingto CNN.
Update 7:10pm:
President Trump is tweeting again, sharing his thoughts and prayers for the victims of the terrorist attack and warning against the threat of the Islamic State.
Update 6:45pm:
There are multiple reports that Saipov is from Uzbekistan.
In April, an Uzbek national was behind the Stockholm terror attack. Rakhmat Akilov, a 39-year-old with ties to the Islamic State, drove a hijacked truck into a crowd of people, killing four people and wounding 15, in an eerily similar terror plot.
Update 6:25pm:
More responses, including New York Senator Chuck Schumer…
Update 5:50pm:
From White House Press Secretary Sarah Huckabee Sanders:
"The President has been briefed on the incident in NYC by CoS Kelly and will be continually updated as more details are known. Our Thoughts and prayers are with all those affected."
Update 5:47pm:
Despite officials calling the event an act of terror, Facebook is just labeling it "The Violent Incident" in its Safety Check feature.

Update 5:40pm:
Islamic State supporters are celebrating the Manhattan terror attack, stating "You killed men and widowed women and orphaned children…what do you expect!" reports Rita Katz, Director of SITE Intelligence Group.
Update 5:30pm:
President Trump weighs in…
Update 5:25pm:
At a press conference, De Blasio confirms that, based on the information available, this was an act of terror. He also gave an updated casualty count: 8 deaths.
"This was an act of terror, and a particularly cowardly act of terror aimed and innocent civilians, aimed at people going about their lives who had no idea what was about to hit them," said De Blasio. "We, at this moment … know of 8 innocent people who have lost their lives and over a dozen more injured. We know that this action was intended to break our spirit, but we also know New Yorkers are strong, New Yorkers are resilient, and will not be moved by an act of violence."
"I want to ask all New Yorkers to be vigilant. We know its Halloween night and in the days ahead people will be uneasy," he continued.
After De Blasio spoke, Governor Cuomo spoke, reiterating there is no ongoing threat:
"It reminds us how precious life is… that shock and that pain is going to be very real… our first responders did an extraordinary job… the new terrorist tactic which they called for publically are these lone wolves who commit an act of terror. This is very preliminary … but at this moment there is no evidence to suggest a wider plot or wider scheme… the actions of one individual who meant to cause pain and harm and probably death, and the resulting terror, and that was the purpose. We will be vigilant, more police everywhere, you'll see them in the airports, you'll see them in the tunnels, it's not because there is any evidence of any threat."
Update 5:20pm:
Rita Katz, Director of SITE Intelligence Group, notes Islamic State magazine Rumiyah has encouraged its followers to execute similar attacks, specifically highlighting the Macy's Thanksgiving Day Parade in New York as a soft target.
Update 5:10pm:
Images from the Associated Press press show a body covered under a white sheet next to a bike.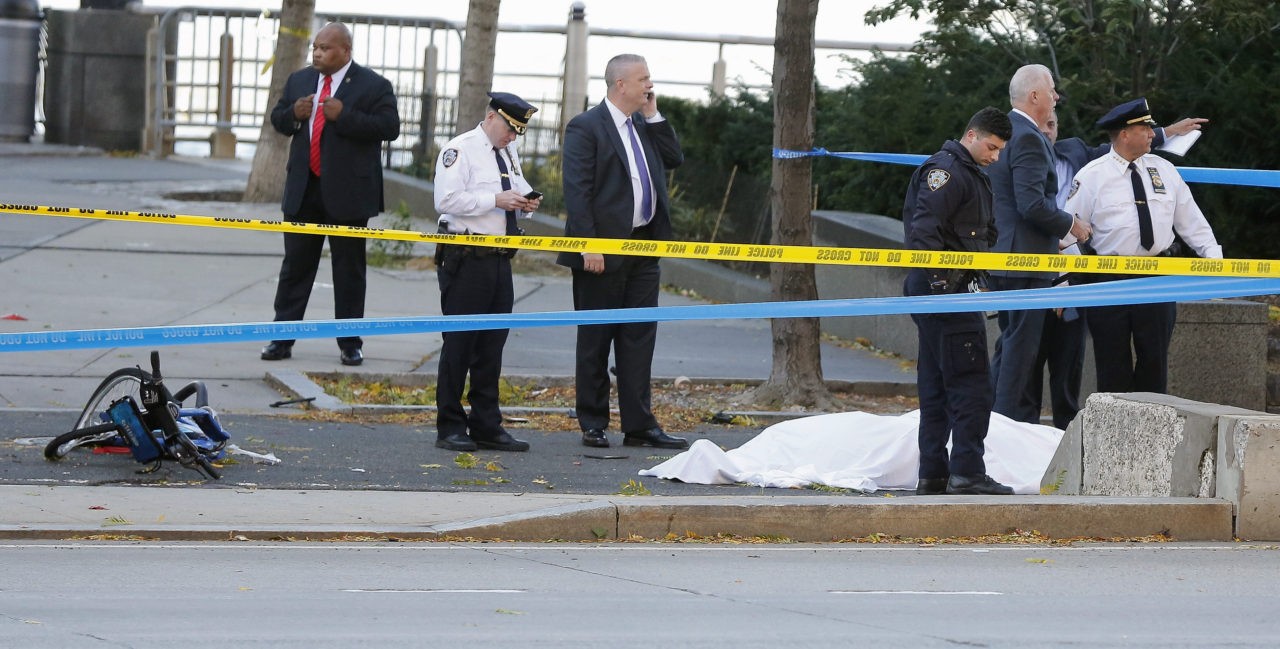 Update 5:00pm:
The suspect is being described as a Middle Eastern male in his mid-30's with a Florida ID.
CBS Correspondent David Begnaud confirms the suspect was driving a Home Depot rental truck.
From Breitbart News' Frances Martel, the Village Halloween parade still scheduled for this evening.
Update 4:56pm:
New injury totals:
Update 4:40pm:
Law enforcement sources confirm to Breitbart News' John Carney that the police are investigating this as a terrorist incident.
NBC News airs footage captured by a high school student of the purported assailant:
Update 4:30pm:
More details are emerging from NYPD:
Update 4:25pm:
Officials are saying as many as six people have been killed and 11 injured.
Update 4:22pm:
The suspect was shot twice by law enforcement after he was stopped on a bike path by a school bus that got in the way, according to Fox News.
Update 4:15 pm:
From the Associated Press: "Police and witnesses say a motorist drove onto a busy bicycle path near the World Trade Center memorial and struck several people, then emerged from the vehicle screaming and firing something that appeared to be a gun."
An Associated Press photographer on the scene Tuesday witnessed at least two bodies lying motionless on the path beneath tarps.

The New York Police Department posted on its Twitter feed that one person was in custody. The department says it's unclear whether anyone was shot.

A man who was riding in an Uber along the West Side Highway near Chambers street says he saw several bleeding people on the ground after a truck struck several people.

A witness said the truck had also collided with a small bus and one other vehicle.
Update 4:09 pm: 
According to Fox News, the FBI is responding to the scene.
New York Governor Andrew Cuomo and NYC Mayor Bill De Blasio are both en route as well:
No information on the suspect has been released at this time.
Update 3:36pm:
The New York Police Department reports it has one suspect in custody.
According to NBC News, multiple people have been killed.