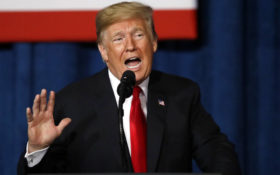 Judge SLAMS anti-Trump . . .
Fox News star Judge Andrew Napolitano unloaded on the anti-Trump bias that has taken over top levels of the FBI — and he warned about "unconstitutional" steps that could allow the illegal surveillance of any U.S. citizen that even talks to a foreigner.
After former FBI lawyer James Baker acknowledged that he was involved in the Foreign Intelligence Surveillance Act (FISA) warrant used to wiretap President Donald Trump's campaign during the 2016 presidential election — which Baker himself admitted was "unusual" — Judge Napolitano spoke out.
What he said had conservatives cheering.
"Judge, why is this significant to you?" Napolitano was asked by hosted Brian Kilmeade on Fox & Friends early Tuesday.
"Because this is not something normally done by the general counsel of the FBI," Napolitano replied. "If he were doing his job, he would tell them: Stay away from FISA! Donald Trump has argued that FISA – which has a low standard to get a search warrant – has been abused by the FBI because it's easy to get a search warrant" compared to using more common methods.
"Under the constitution, to get a search warrant – to listen to somebody's phone calls, to look at their mail, to follow them – you have to have probable cause of crime, a very high standard," he explained. "You have to show evidence."
Trump has pointed to that allegedly illegal wiretap as proof that the investigation into Russian election meddling has turned into a so-called "witch hunt" that is targeting him unfairly.
"Under FISA, that standard is a lot less," Napolitano said. "The standard is: Has this person ever spoken to … a foreigner. So I could talk to my tailor in midtown Mahattan and that would justify the FISA warrant on me. It's the same warrant! One is easy to get, one is difficult to get."
That's when he dropped the hammer.
"When the FBI can't get the more difficult one, they get the easy one – and THAT has corrupted them!" Napolitano exclaimed. "That has enabled them to gather evidence by unconstitutional means, and that's what they did to the president."
"When you look at the transcript, when you look at what we've seen … it's a real eye-opener." Fox & Friends host Steve Doocy replied. Baker "admits that he was given … 'very unusual' [access] to documents" from a Democratic National Committee lawyer.
Baker is currently under criminal investigation for leaking anti-Trump information to the mainstream media.
"It is obvious that there was an agenda on part of people in the FBI to either cause President Trump to stumble, to prevent him from entering office, or to get rid of him once he was in office," Napolitano said.
"We keep getting snippets of this evidence," he concluded. "If they can do this to the President of the United States, they can do this to anybody."
You can watch the powerful segment here —